Employment Opportunities
Assistant District Attorney
District Attorney's Office – Full-Time; Sitka Office
The Department of Law, Criminal Division is recruiting for an experienced prosecutor who would like to live in beautiful Sitka, Alaska. Sitka is home to 9,061 people whose colorful past is a blend of native Tlingit culture and Russian history. Sitka's incredible scenery is framed by glacial carved mountains and island-studded waters facing the Pacific Ocean. If you enjoy dramatic scenery, fishing, hiking, and abundant wildlife then Sitka is the place for you.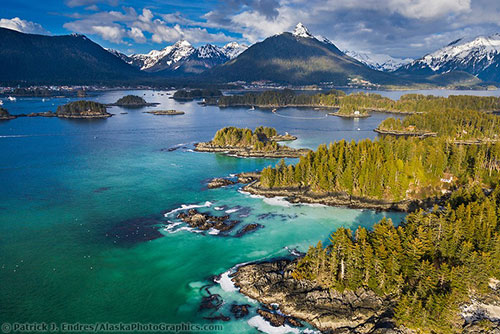 The Sitka District Attorney's Office is operated by one full-time assistant district attorney, paralegal, and law office assistant and is supervised by the Juneau District Attorney's Office. The attorney hired for this position will prosecute violations of criminal law arising out of Sitka, Petersburg, and Kake. The applicant must be willing to travel to outlying courts located in Southeast, Alaska.
The attorney in this position is expected to work predominately independently; therefore, a minimum of two years of full-time, licensed law practice is preferred. The Sitka office provides ample opportunity to acquire experience in a wide variety of criminal prosecutions, both misdemeanor and felony. Applicants should also have litigation experience that includes trial work, preferably in the criminal law.
Individuals who would like more information about this position may contact Juneau District Attorney Angie Kemp at (907) 465-3620 or angie.kemp@alaska.gov.
Application Instructions
Salary is determined by the legal background and experience of the selected candidate and will range from $77,000 to $111,000, which includes a salary differential increase of 5% for this location.  Salary increases are received every 1-2 years. A comprehensive state benefits package is provided, including 21 days of personal leave for new employees, which increases over time; a generous Supplemental Benefits System (SBS) in which the state matches 6.13% of gross pay (this is in place of social security); a PERS retirement account in which the state matches pre-tax contributions of up to 5% of gross eligible salary; options for deferred compensation; life, health, dental and vision insurance; and assistance with moving expenses.  State attorneys are in the partially-exempt service and serve at-will at the pleasure of the Attorney General.
Candidates who are interested in applying for a position must submit a resume that includes a complete history of education and professional work experience and identifies at least three professional employment references.  Please also include a professional writing sample.  A cover letter should specify the position for which the applicant is applying. If applying for multiple positions, the cover letter should specify which of the positions the applicant wishes to be considered for, but only one set of application materials is necessary. Applications for this position will be considered as they are received; however, the recruitment will remain open until the position is filled.
Preferably applications should be submitted electronically to: CriminalLawRecruit@alaska.gov
or you may send a hard copy to:
Department of Law
Criminal Division Central Office
P.O. Box 110300
Juneau, AK 99811
The Department of Law is an equal opportunity employer and complies with Title I of the Americans with Disabilities Act.  Applicants needing accommodation to apply may contact the Criminal Division Central Office at (907) 465-3600 or Relay Alaska at (800) 770-8973.
All interested and qualified applicants will be considered, but not every applicant will be interviewed.  A preference will be given to applicants with the ability to fluently speak another language that is commonly used in the geographic locations related to this position.
Want the latest attorney opportunities
delivered straight to your inbox?