Alaska Department of Law Internship Program
Intern Experiences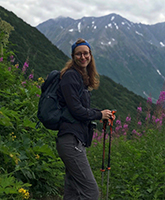 I had a really wonderful time at the Department of Law. The entire section was eager to get me as involved as possible with their work and regularly asked if there was anything else I wanted to see or do during my summer. I drafted pleadings, drafted a memo to the Attorney General relating to joining a multistate settlement agreement, participated in investigative interviews, and researched legal questions on a variety of topics, including Alaska's constitutional right to privacy. It was inspiring to work with people who were not only incredibly intelligent and dedicated but who recognize the importance of having a work life balance, which generally meant getting outdoors as much as possible. Becoming friends with the other interns was also a highlight of my time in Alaska. There were always multiple people down to plan a fun weekend of hiking and/or backpacking. It was one of the best summers I've had and one I won't ever forget.
- Marlee – University of Michigan, Summer 2019
---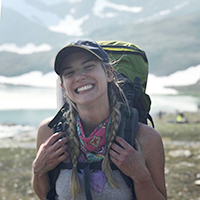 I am from Anchorage, and loved being home. Trust me when I say that nearly all attorneys who come up to Alaska end up staying forever. The questions of first impression, exciting legal landscape, work-life balance, and tight knit legal community are unparalleled. My summer was so rewarding: during the day, I researched novel constitutional questions, and in the evening I went hiking. I couldn't ask for a better experience!
- Aneliese – Georgetown University, Summer 2019
---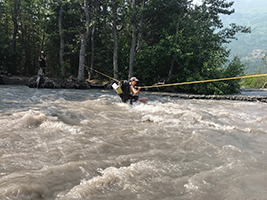 My summer at the Alaska Attorney General's office was a much-needed break from law school in an urban city. Not only did I get to apply the substantive knowledge I gained from law school to real matters, but I also found my understanding about major environmental regulations grew as I worked on various projects for multiple attorneys. I enjoyed working on challenging issues and getting to take advantage of the endless summer sun.
- Tiffany – UC Hastings College of Law, Summer 2019
---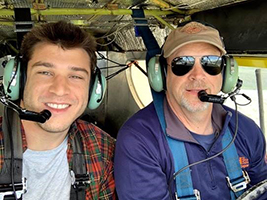 This was a great summer to intern in the Criminal Division. I had the opportunity to support the team's response to a Supreme Court decision, provide a potential legislative fix, and even helped draft the petition for rehearing. I worked closely with my supervisor as we put on an Office of Administrative Hearing adjudication. Everyone in the office was friendly, genuine, and willing to help me produce my best work. I highly recommend spending a summer interning in the office of the Attorney General.
If you like outdoor recreation and being in nature there is no better place to spend a summer. The accessibility for world-class hiking, rafting, fishing, running, mountain biking, and camping is unparalleled. I even got to fly in a plane to a glacier! The surrounding wilderness is unending and awesome. Big mountains, vast ocean, vast valleys, are all filled with unique wildlife. Downtown provides great eats and fun pubs and Alaskans know how to earn their beers! Besides being a fulfilling summer to advance my career, this was the most fun summer I've had since I was at summer camp!
- Michael – Fordham University School of Law, Summer 2019
---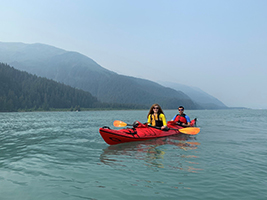 I took this internship for the adventure and the experience I will gain directly related to my field of interest…and I left with so much more! My summer here was absolutely spectacular—both personally and professionally.
- Michelle – Saint Louis University of Law, Summer 2019
---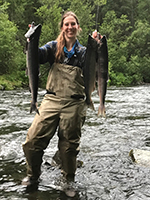 My summer at the Alaska DOL was one of the best of my life, both in and out of the office. In the office I was consistently challenged by interesting legal questions – often issues of first impression. I was also surrounded by an incredible group of mentors that taught me a lot. Outside the office I had an incredible time exploring the 49th state: Fishing, hiking, backpacking, cooking fresh caught salmon over beach bonfires, getting up close (but not too close!) with a LOT of wildlife – every moment of this summer will stay with me for the rest of my life.
- Cayla, Harvard Law School, Summer 2018
---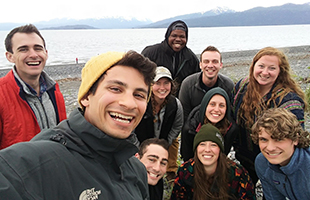 I had the best summer in Alaska—I couldn't imagine being anywhere else. As someone interested in a career in antitrust, I worked closely with the antitrust attorney on several cases, looking into legal issues, competitive markets, and requests for information. My other work ranged from business investigation to First Amendment analysis. Outside of work, I squeezed in a year's worth of hiking and camping. I went on trips every weekend but one, hiked at least a mountain a week, and biked everywhere. Anchorage is a fantastic place to spend a summer.
- Jonathan, University of Michigan Law School, Summer 2018
---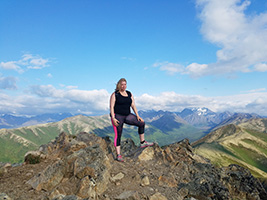 My summer in Alaska was a once in a lifetime opportunity that involved great experiences both in and out of work. I had the chance to develop my research and writing skills working on challenging and stimulating legal issues in the environmental field, attend a wide variety of fun, educational programs, participate in a mock trial in the federal court house, and spend every weekend out exploring Alaska. I got the chance to do everything from hiking mountains to canoeing, kayaking, hiking glaciers, camping and fishing.
- Casey, Hofstra University, Summer 2017
---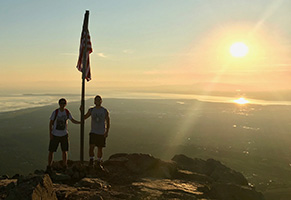 The attorneys at the Department of Law lead lives I would one day love to emulate, spending working hours formulating brilliant legal arguments, then heading out to the river for some salmon fishing. It's really the best of both worlds: interesting, challenging legal practice, combined with a quality of life that I can't imagine being matched anywhere else.
- Nick (on right), Stanford University, Summer 2017
---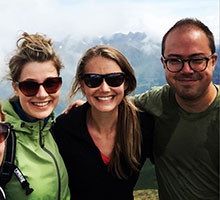 My summer internship at the Alaska Department of Law was an incredible experience! I enjoyed the substantive work projects and the welcoming atmosphere in the office, and loved exploring beautiful Alaska during our free time. Interns have the opportunity to work on a wide range of legal projects, and I finished the summer with much stronger legal research and writing skills and a valuable understanding of what it's like to practice law in a state government office. As interns we were strongly encouraged to get outside and explore the state (and offered plenty of advice and gear to borrow!), and the flexible weekend schedule and almost unlimited daylight made it possible to take long hikes, weekend trips, and truly make the most of a summer in Alaska.
- Emma, UC Berkely (middle), Summer 2016
---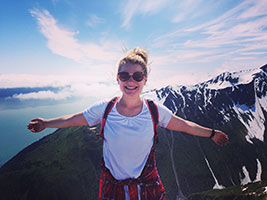 I wanted to do something different for my summer, so I applied for an internship with the Alaska Department of Law. From drafting subpoenas and investigating consumer protection claims, to hiking all over the Kenai Peninsula with new friends and rafting through whitewater at Denali National Park, it was the summer of a lifetime.
- Melissa, George Washington University Law School, Summer 2016
---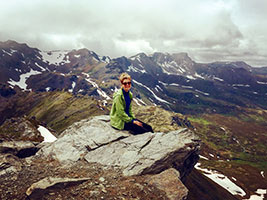 The legal internship program at the Alaska Department of Law is unparalleled. I was able to draft substantive legal memoranda and motions to the court. I also had the unique opportunity to assist with trial preparation and observe various court hearings almost daily. In addition to the substantive work, the DOL exemplifies a collegial work environment. The DOL is comprised of people who are friendly and eager to facilitate a collaborative learning experience. I highly recommend this opportunity to anyone interested in a rewarding and memorable summer in Alaska!
- Madison, Boston College Law School, Summer 2016
---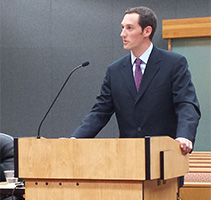 A summer internship with the Alaska Department of Law is an once-in-a-lifetime experience. Interns have the opportunity to work on meaningful legal projects under the mentorship of outstanding attorneys. Additionally, interns who have completed their 2L year can get courtroom experience with a Rule 44 Legal Intern Permit. My summer internship helped improve my skills as a legal writer and as an oral advocate. Best of all, the program emphasizes a flexible schedule allowing interns the opportunity to get out and explore Alaska. In terms of legal training and fun, the Alaska Department of Law's internship program offers an unparalleled summer work experience.
- James, University of Washington, Summer 2015
---
The Alaska Department of Law's internship program is unbeatable. During my first law school summer, I drafted contract clauses for government agencies, appealed administrative decisions, wrote substantive sections of state motions, and became a member of a litigation team as it handled a weeks-long federal trial. Experiencing such a diverse set of projects gave me a much clearer sense of the type of law I'd like to practice and the skills that I need to be a great attorney. And working for the State of Alaska opened up a whole array of unique opportunities: the state's youth meant that I got to tackle questions of first impression; its vastness and diversity gave rise to a number of different types of legal issues; the relatively small size of its government made it easy to meet officials from the agencies we were representing; and the intimacy of the Alaska bar made it possible for me to meet judges at both the federal and state level. Hopefully it goes without saying, too, that life in Alaska is like nothing else. Not many lawyers get to switch their suits with waders and go fish for salmon under the midnight sun!
- Nic, Stanford Law School, Summer 2014
---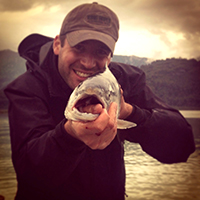 The summer internship with the Alaska Department of Law is a great introduction to the state's legal community. I recommend it because students are exposed to the variety of legal issues you'd find at a large firm but with the collegial work environment of a small practice. Serving in the Natural Resources Section allowed me to work on interesting questions of state/federal law and develop useful knowledge in wildlife and administrative law. In addition to developing important legal skills, Alaska offers world-class recreational opportunities that allow you to relax and network with your colleagues. The Alaska backcountry is an unforgettable outdoor experience.
- Travis, George Washington University Law School, Summer 2014
---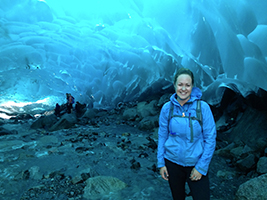 I thoroughly enjoyed my summer at the Alaska Department of Law. I had a wonderful experience and learned more than I could have imagined. Everyone at the Department of Law was very friendly and approachable. I was exposed to many different aspects of being a practicing attorney including working on a two-week civil bench trial, attending a deposition, attending a hearing, preparing memorandum, researching statutory issues, and assisting with a reply brief. The projects I was assigned covered a diverse array of subjects. The work was challenging but very interesting and meaningful. I didn't have a single project that felt like busywork. The week-long Mock Trial was a really fun and unique experience for a summer intern! Additionally, being from Juneau, it was great to spend another summer in Alaska. The hiking and outdoor recreation activities were a great way to unwind from my 1L year!
- Rose, Stanford Law School, Summer 2014
---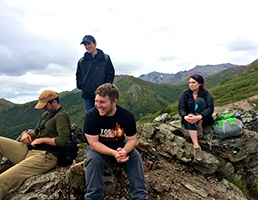 The Alaska Department of Law Internship Program is the ultimate legal internship experience. My weekdays were filled with interesting legal research with the help of incredible mentors, and my weekends were filled with camping trips in some of the most beautiful places in the world. The Alaska Department of Law Internship Program is a true program where they encourage interns to get involved in a huge variety of real world legal experiences as well as provide informative lunches and even put on a mock trial. You will leave Alaska thinking you were at a ten week summer camp but look back and realize that you learned more about the law then you could have ever hoped to anywhere else.
- Matt (front center), University of California, Hastings College of Law, Summer 2014
---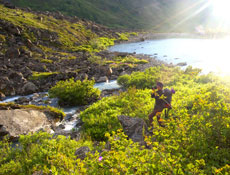 My summer in Alaska was awesome! The intern program here is unmatched. The work was incredibly interesting. I worked on issues of constitutional law that have little precedent in Alaska and broad implications for the development of this young State. The attorneys treat you like family, and make a great effort to ensure that you are experiencing all that Alaska has to offer. When I wasn't researching exciting legal questions, I was hiking and backpacking in the mountains. Alaska's beauty is unbelievable, and the attorneys make sure that you have the time, equipment, and company to experience it to the fullest.
- Byron, New York University School of Law, Summer 2013
---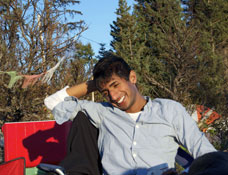 I can't imagine having done anything else with my summer. The Department of Law exposed me to a wider range of legal issues and practice areas than I could ever have expected to work on during one summer. The Department's attorneys are very engaged and dedicated people from whom I learned a tremendous amount. The attorneys were very attuned to interns' areas of interest and always made sure to notify interns if any projects coincided with those interests. There were a number of opportunities to learn outside of the office, as well, including the mock trial program, a visit to the Alaska Supreme Court, and the opportunity to watch trial and appellate proceedings. And what could be better than spending weekends hiking in Denali and kayaking in Homer?
- Karthik, Harvard Law School, Summer 2013
---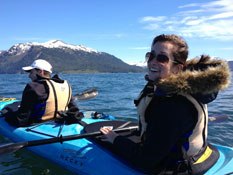 Interning with the Department of Law was a truly excellent experience in every sense of the phrase. I was able to work on real civil motions and participate in meetings with opposing counsel. They attorneys in the office were incredible mentors, always glad to give feedback and making me feel like I was part of the team. I learned a ton about what type of legal work interests me and had my first encounter with fishing waders. I really cannot imagine a better way to spend the summer.
- Meg, New York University School of Law, Summer 2013
---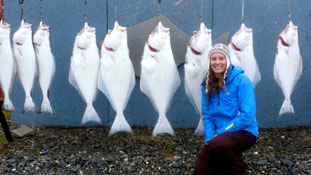 When people ask me, "How was Alaska?" it's difficult to know how to respond. There are really no words to describe how exceptional this experience was, but I'll try. The mixture of work and play is like no other legal internship you will find. At work I conducted legal research, drafted motions, attended client meetings, and observed court proceedings. The atmosphere of the office is professional yet extremely friendly. It was also great to arrive in Alaska with a whole cohort of interns from across the country. On the weekends we went halibut and salmon fishing, backpacking and kayaking. At the end of the summer it was extremely difficult to say goodbye to my coworkers, fellow interns and Alaska's natural beauty.
- Rebecca, University of California, Davis School of Law, Summer 2013
---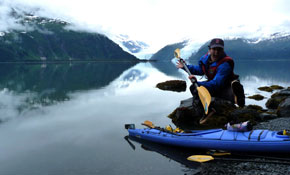 Although I may be a bit biased as a lifelong Alaskan, I think that everyone should be clamoring for a summer internship at the Alaska Department of Law. Not only are interns given interesting and substantial legal work, but it is done in a low-stress, welcoming environment where a healthy work/life balance is essentially mandated. The internship is also set in a place with unrivaled beauty where many like-minded interns are eager to go on many outdoor adventure activities. I wholeheartedly recommend the experience to everyone who is thinking of applying.
- Sam, Boston College Law School, Summer 2013
---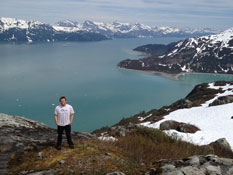 Interning with the Department of Law was a great opportunity to get hands on legal experience while spending a summer in the most beautiful place on Earth.
- Michael, University of Washington Law School, Summer 2013
---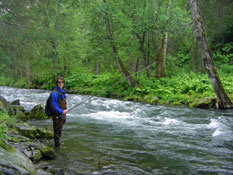 I could not imagine a better summer internship experience. The office is filled with warm, welcoming, and interesting people. The attorneys I worked with were true mentors, providing guidance and support. In addition to researching, writing, working with clients, and going to court, I was exposed to a wide range of legal issues and assignments. Most importantly, I was encouraged to think critically and develop my own projects and areas of interest and run with them. The stimulating legal environment coupled with the various outdoor activities and beauty of Alaska make an internship at the Department of Law an amazing summer opportunity. Also, you will see a moose in your backyard.
- Aaron, University of California, Hastings College of Law, Summer 2012
---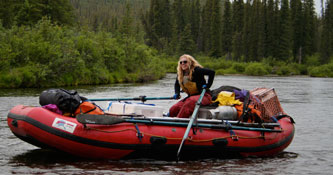 I've been talking quite a bit to my fellow law students and hearing about their experiences, and I have to say that I am so lucky to have worked at the Department of Law this summer. It was truly a unique experience and very valuable both personally and to my legal education.
- Joanna, University of Washington, Summer 2011
---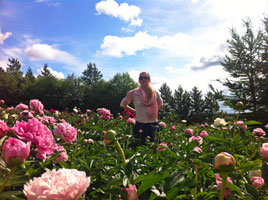 Working in Alaska is exciting because it really is different than any other state. I was exposed to unique legal issues, and was introduced to a wonderful and tightknit legal community. I don't think many other internships could have provided me with the type of experience I got this summer. And to top it off, just being in Alaska makes every day just a little bit more fun!
- Zephyr, Vermont University, Summer 2012
---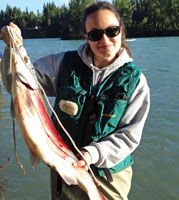 In addition to being given the opportunity to work on real civil trial motions and appellate briefs, I participated in a mock trial, which was probably the most transformative experience I had this summer. I was able to prepare for and present a criminal trial, from starting strategy to closing arguments.
- Johanna, Columbia School of Law, Summer 2012
---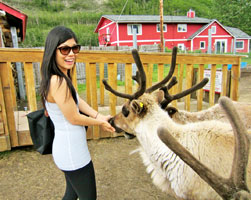 I cannot say enough great things about my internship for the Alaska Attorney General's Office. The atmosphere in the office was extremely collegial and made me look forward to coming to work each day. The attorneys were very welcoming and willing to take the time to answer any questions I had regarding legal issues or post-graduation plans. In addition to the exceptional experiences that I had in the office, I had a chance to explore the beauty of Alaska. The sun doesn't set until midnight, so there are countless hours to do things like run through the snow on the top of Mount Alyeska, pet reindeer, feed musk oxen, and explore the countless trails running throughout Alaska (just to name a few). I wholeheartedly recommend an internship with the Alaska Attorney General's Office; you won't regret it!
Erica, Rutgers School of Law, Summer 2012